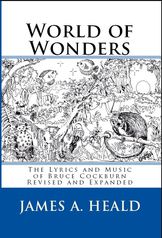 My Book on Bruce Cockburn, World of Wonders is available in paperback from Amazon.com  -  Click Here.  Amazon UK, Amazon Canada, Amazon Japan and  Amazon Germany 
This excerpt is from Chapter 11 - Live Recordings, which is entirely new.
Bruce Cockburn Live (1990)
This album was recorded live at Ontario Place in Toronto, August 14-15, 1989.  Bruce performed at The Forum, an outdoor concert venue on the site, which has since been torn down.[1]  On this album, Bruce plays electric and acoustic guitars, harmonica, bodhran, and wind chimes. Fergus Jemison Marsh plays Chapman stick, midi stick and contributes background vocals; with Michael Sloski on drums, percussion and background vocals.[2]  The Chapman stick is an electric stringed instrument with either 10 or 12 strings that essentially combines bass and guitar.  The player can use it to play either bass or guitar or both depending on their skill.  There is also flexibility in tuning the instrument, which would make it even more versatile in skilled hands.[3]
The album opens with Silver Wheels, which starts out on electric guitar with no accompaniment, just like the original studio recording from In the Falling Dark.  Bass and drums join in on the second verse.  There's a long electric guitar solo at the end, essentially substituting for the trumpet solo on the studio recording. 
This is followed by World of Wonders played with the full band, including a substantial electric guitar part.  Bruce uses the harmonica for color and to partially substitute for the horns of the studio version. There's also a brief harmonica solo. Fergus Marsh covers the bass with his Chapman stick and there's a strong drum beat rocking us along.   The original studio version of the song doesn't have much of a guitar part, but is driven by bass and/or stick, keyboards, and horns. 
Harmonica is also a featured instrument on the version of Rumours of Glory which follows.  Bruce plays acoustic guitar.  There's bass and drums and even a harmonica solo.  This is a very solid version of the song.
Next up could be the definitive version of See How I Miss You.  The finger picking is impeccable and very fast, a fine example of Bruce's impressive fingerstyle guitar work.  Stick and drums join in to flesh out the arrangement, but the guitar is front and center. The studio version, from World of Wonders, is completely different.  It has a pronounced Latin flavor, with lots of percussion and keyboards, doing their best marimba impression, with a fairly minimal guitar part.
This is followed by After the Rain, which Bruce performs solo, on acoustic guitar.  Bruce cracks that "It's a union break for those guys," in his introduction to the song. This recording really showcases the beauty and complexity of the guitar part, complete with a guitar solo at the end.
Call it Democracy is also a solo guitar rendition.  The guitar and particularly the vocals sound very intimate, with a nuance that you'd expect at a much smaller concert venue.  It's also interesting that he chose to sing what is arguably his most ferocious song completely stripped down, especially when he had a band ready and able to perform it. But he may have wanted to put a completely different version of the song out there.
The band returns for Tibetan Side of Town. This is a good example of the versatility of the Chapman Stick (or the midi stick) where Fergus Marsh is playing both bass and filling in with something like high end keyboard fills and even a solo.  The drums and stick provide a strong bottom end to anchor Bruce's extended guitar solo.    Bruce also manages to add some wind chimes played with his feet.  This is an excellent version of the song.
Wondering Where the Lions Are comes next. The song starts out with just Bruce on acoustic guitar, but the drums and stick come in on the second verse.  This version ends with Bruce sort of scatting while his bandmates play and sing the chorus over and over.
This is followed by an excellent band performance of Nicaragua from Stealing Fire, a good song that has perhaps not aged well because of its topical content. However, it contains some really startling images of that place and time.  What is most impressive to me about the song is how it captures the fragile beauty of people's hopes and dreams and contrasts it with the sinister forces, primarily the U.S. government, arrayed against them.  The version is very similar to the studio version of the song.
If I had a Rocket Launcher features Bruce on electric guitar and starts with no accompaniment. The band doesn't kick in until the first chorus.  Stick provides both the bass and also something like high pitched keyboard fills, which provides a very nice sonic effect on the ending. The guitar solo is one of Bruce's best and the vocals are very good, filled with passion.
The stick and drums provide a very solid base for the reggae song Broken Wheel.  Fergus Marsh contributes excellent, atmospheric instrumental work on the bridge.
Stolen Land follows, featuring Bruce on vocals and the bohdran.  As he said in notes from his songbook Rumours of Glory, "Trying to make this song work for a subsequent solo tour, I discovered that if I played a Bo Diddley beat on the bohdran, the Irish drum, I could sing the song with it. It appears that way on the live album."[4]   If "Bo Diddley beat" doesn't mean something to you, go listen to the song Who Do You Love.  The studio version appeared on Waiting for a Miracle and is a very electronic funk song, with Hugh Marsh playing electric violin and keyboards and synthesizers.  There's a little bit of a very distorted guitar solo near the end of it, but Bruce mainly contributed the vocals.
To Raise the Morning Star, originally released on Stealing Fire, features Bruce on electric guitar using lots of effects, along with the bass part from Fergus Marsh on stick.  There's an extended rock guitar solo.  No other description fits, given the distortion and other effects.
Bruce opens Maybe the Poet playing the signature riff at the beginning on harmonica, which he plays off and on throughout. He also plays very distorted electric guitar.  This is very different from the original version on Stealing Fire, but I'm not complaining at all.
The album ends, somewhat curiously, on the Monte Python song, Always Look on the Bright Side. Bruce plays acoustic guitar, starting out solo for the first verse which is played slowly and theatrically for emphasis.  The band joins in at the chorus and the piece settles into a show-tune jazz groove.  This is one of the few songs Bruce has ever recorded on one of his records that he did not write.  He rarely even performs a song by someone else in his concerts, though I did hear him play Pete Seeger's Turn, Turn, Turn around the time that he recorded it for a tribute album.  In any event, this is a good song to end what some may consider a pretty heavy concert or album, injecting a little humor at the end, even if it is a song about death and how "Life's a piece of shit, when you look at it."
This is possibly Bruce's most electric, rock oriented album, at least to this point, despite a handful of acoustic pieces in the middle.  It definitely rocks harder than any of his previous studio albums.  All the songs on this album were released after Circles in the Stream, except Silver Wheels, so this is a pretty good record of his work in the 13 years between the two albums. 
One very curious omission from the album is a version of Lovers in a Dangerous Time, clearly one of Bruce's signature songs from the 80's, though you could also make strong cases for Fascist Architecture, The Trouble with Normal, and other songs from Dancing in the Dragon's Jaw, Humans, and Inner City Front.  Admittedly, that's a nice problem for any artist to have: too many stellar songs. 
Again, I have not been able to locate a set list from these performances.  A performance at the Maine Festival three days before has nine of the same songs released from these concerts, with the addition of Lovers in a Dangerous Time, All the Diamonds, Shipwrecked at the Stable Door, Don't Feel Your Touch, If a Tree Falls, and Peggy's Kitchen Wall.  A show two weeks later at the Greenbelt Festival in the UK has eight of the songs recorded on Live, with a few different alternative choices, such as Radium Rain, Where the Death Squad Lives, Lord of the Starfields, and The Gift.  Recordings of some of these songs may, or may not, exist from the performances captured for Live.
---